Just three days after Kurdish militia the YPG captured the northern Syrian town of Sarrin, near the Kurdish city of Kobani, ISIS has launched a counter-attack, sparking a day-long battle over the town that left 18 fighters killed, 10 from the YPG and eight from ISIS.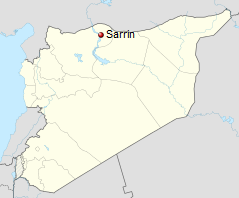 Sarrin was used as a staging ground for past ISIS attacks against Kobani, and Kurdish officials were keen to have control over the area to prevent that in the future. ISIS is likely to continue to try to retake the town as well, despite it being small and otherwise of little import.
In the meantime, the locals are stuck in the middle of a warzone, and a purge by the YPG, with the Syrian Observatory for Human Rights reporting that they had captured 150 locals in the town who they accuse of "collaborating" with ISIS.
ISIS has a relatively small territorial possession in Aleppo Province, where Sarrin is, and it is separated from the rest of their territory by the Kurdish holdings around Kobani. This has been driving ISIS to attack Kobani regularly, hoping to connect the two regions, and allowing them to expand deeper into Aleppo Province. The city of Aleppo itself is under disputed control of several factions, including the Syrian military.