An Israeli drone today attacked a vehicle in southern Syria, killing three people near the Druze village of Hader. Syrian state media identified them as villagers, while the Syrian Observatory for Human Rights said they were members of the National Defense Committees, a pro-Assad militia.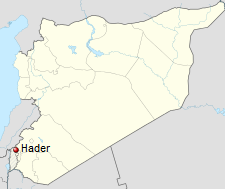 Why Israel launched the strike at this point is unclear, as they hadn't attacked Syria in a few weeks. A second airstrike was reportedly carried out in eastern Lebanon, where one Palestinian was killed and six were wounded. The strike hit a base belonging to the pro-Assad PFLP-GC.
The PFLP-GC was in control of the massive Yarmouk Refugee Camp in Damascus before the war began, but was expelled largely by rebel forces. Like much of the camp's population, they fled into Lebanon.
Israel has launched intermittent attacks against targets inside Syria and Lebanon throughout the Syrian Civil War, usually targeting Hezbollah forces, and at times killing some of their top anti-ISIS leadership. Israeli officials tend to be very coy about the strikes in the first few days after them.