ISIS has claimed credit for a massive car bomb against the Diyala Province town of Khan Bani Saad, about 20 miles northeast of Baghdad and adjacent to an Iraqi Air Force base, which tore through a marketplace and killed over 100 people, apparently overwhelmingly civilians.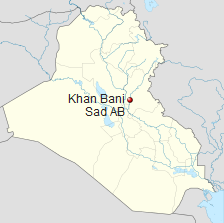 Diyala officials confirmed the massive blast but said the toll was far from finalized, as the enormous blast blew people apart, and the bodies and body parts are still being gathered up. A riot occurred in the neighborhood after the bombing, with locals furious at the attack.
ISIS reported that the attack was carried out by a bomber who used three tons of explosives in his vehicle, explaining the enormity of the attack. The Diyala provincial government has declared three days of mourning to last through the rest of Eid al-Fitr.
ISIS said the attack targeted Shi'ites in the town, and was revenge for the Hawija massacre, an Iraqi Army crackdown on a protest in another city in Diyala that left hundreds of Sunni Arabs killed.