A US drone backed by Kenyan artillery bombardment attacked Somalia today, killing over 30 people who the Kenyan government identified as members of al-Shabaab. They claimed that 51 members of Shabaab were killed all told between the drones and artillery attacks.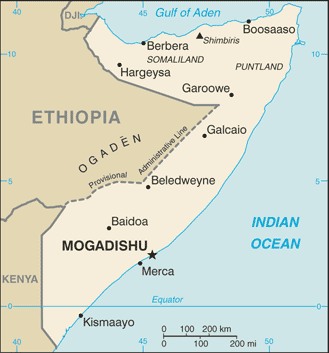 Kenya's Interior Ministry was the first to confirm the strike, but retracted its initial claim that one of the slain was Mohamed Mohamud, who was accused of being behind the Garissa University attack. They later insisted that "several masterminds" of unspecified other plots were slain.
At least two missiles were fired in the strikes, destroying a vehicle and causing a massive explosion in the nearby al-Shabaab base at Bardhere. All communications into the region were cut off after the strike, so there has been no confirmation on the victims.
The attack comes just a week ahead of President Obama's scheduled state visit to Kenya, and will probably be hyped by the Kenyan government as proof of their close military ties. The strike also risks fueling another high-profile retaliation from Shabaab supporters against targets in Kenya, however, potentially marring Obama's state visit.