Having more or less given up on Tripoli, the Tobruk-based Libyan government has been trying for months to throw what it has of an army at Benghazi, the major city of the east, hoping to wrest it from various Islamist factions. That offensive appears to have accomplished little.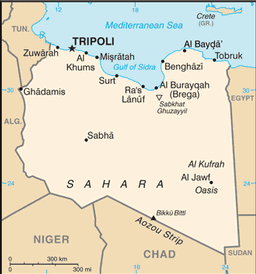 Today, the Libyan Army took another blow in the offensive, with the commander of their special forces, Salem al-Naili, and another soldier slain in an attack. Four other soldiers were wounded in the same incident.
Libya's ISIS faction claimed credit for killing Naili. ISIS is indeed present in Benghazi, but only one of several different Islamist groups, who are often as at odds with one another as they are with Libya's assorted self-proclaimed governments.
While Libyan Army Chief Gen. Khalifa Hifter once again predicted imminent takeover of Benghazi, the UN has issued a new report on the matter saying the clashes have gone on without any side making significant gains, and suggesting the Tobruk government is nowhere near taking the city.