A week of on-again, off-again fighting in the Sinai Peninsula between the Egyptian military junta and the local ISIS affiliate has left hundreds of people dead, and Egyptian officials are continuing to try to downplay their losses while touting their successes.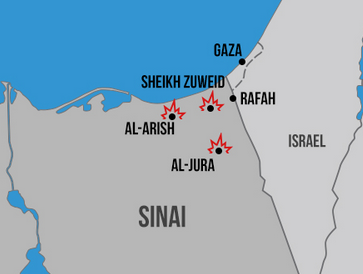 Egypt claimed that 241 ISIS fighters were killed over the course of the fighting, and that only 17 soldiers were killed on their side. This is in spite of reports that 64 Egyptian troops were killed on the first day of fighting. Egypt's latest toll did not include any civilian deaths, but likely reflects their efforts to dubbed all the slain ISIS.
The junta released a map of the sites where most of the fighting took place, showing it was heavily concentrated along the northeast corner of the peninsula, along the border with Israel and the Gaza Strip.
Sheikh Zuwayid was the site of the first fighting, in the middle of last week, when ISIS launched attacks on several military checkpoints. Since then the junta has launched counterattacks throughout the area, dubbing everything hit an "ISIS hideout."