Tel Abyad is a small Syrian town along the Turkish border, and hugely important to ISIS because it is along the primary route from Raqqa, the de facto ISIS capital city, into neighboring Turkey, through which a lot of their fighters cross.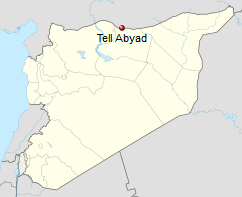 When Kurdish forces took the town earlier this month, it was seen as a huge blow to ISIS, and a sign that the Kurds might be about to deal a decisive blow to ISIS forces within Syria. Today, however, ISIS counter-attacked and retook a significant portion of the town.
Heavy clashes were reported in the town, though the Kurdish YPG termed the ISIS attempt to retake it a "mass suicide," saying they would quickly surround and wipe out the ISIS forces who remain there.
Kurdish forces also claimed to have reversed some of ISIS' recent gains in Hasakeh, in the far northeast of Syria, where they are being supported by the Syrian military. Despite YPG claims of victory over ISIS, locals reported fighting was still ongoing in the streets.