One day after Iraqi Army Brig. Gen. Nasir al-Fartousi called for a change in tactics in Baiji, saying the troops weren't experienced enough in guerrilla warfare to defeat ISIS, Iraq has reportedly handed over leadership of the battle to a Shi'ite militia.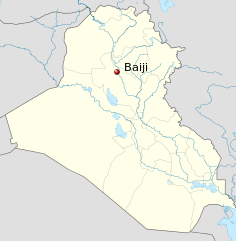 The Asaib Ahl al-Haq militia announced that it has sent Syria-trained fighters who were experienced in street-to-street fighting against ISIS there, and predicted a quick change in fortune for the ongoing battle.
"We will defeat (ISIS) in Baiji soon, in a matter of days," insisted commander Haji Jawad al-Talabawi, the spokesman for the militia. Such predictions aren't uncommon, but such quick victories, either in Iraq or Syria, are pretty rare.
Baiji is considered hugely valuable because it is the site of Iraq's largest oil refinery. A solid year of fighting over that refinery has left it almost entirely in ruins, however, meaning any return to production is likely out of the question, even if one side or other gains more decisive control of the site.