Desperate to shift the narrative away from their mounting losses, the Iraqi military, backed with US airstrikes and a substantial number of Shi'ite militia members, have attacked the Anbar capital of Ramadi, in what officials are saying is an offensive aimed at cutting off ISIS supply routes into the major city.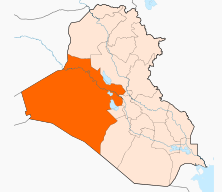 Militia leaders are as usual optimistic about the prospects, saying the offensive won't last long and that the city is already "surrounded on three sides." Iraqi officials also made reference to new weapons being used in this battle that weren't during the defense of the city.
Iraqi officials have been talking up efforts to retake Anbar, the nation's largest province, for months now but have mostly lost ground to ISIS in the area.
Pentagon officials termed the new offensive a welcome sign, but concerns of another sectarian bloodbath are already mounting, with the Shi'ite militias giving the operation a codename related to a 7th century sectarian battle that led directly to the schism between Sunnis and Shi'ites.
Iraq has tended to rely on the militias to do the heavy lifting in fights with ISIS, but have consequently struggled to cope with violent crackdowns on local Sunnis by those militias whenever a city is "liberated." Allies have warned that such crackdowns are helping ISIS' image with Iraq's Sunni Arab population, but so long as Iraq's own military remains unable to fight on its own the reliance of militias will likely continue.