There's been no formal confirmation, but a series of reports have emerged today from several different sources claiming ISIS has executed a number of Yazidi prisoners in Tal Afar for some unspecified reason.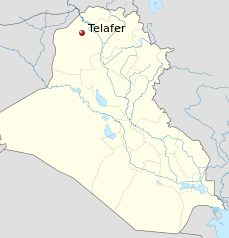 Yazidi MP Mahma Khalil was the first to go public with the report, claiming 25 Yazidis had been executed. Shortly thereafter, the Yazidi Progress Party issued their own statement on the same incident, claiming over 300 were actually killed.
Iraqi NGO the Human Rights Commission later issued its own statement, saying they believed around 70 of the prison's 3,000 captives were killed. They also had no clue exactly why the putative executions were carried out.
Both the toll and the number of captives held at Tal Afar are different in all the accounts, with some saying no more than 1,400 are at the prison in the first place. The Yazidi Progress Party, which is trying to boost calls for a military offensive to retake their territory from ISIS, is predictably setting the highest tolls for both.