The loss of the Anbar Provincial capital city of Ramadi seems to be all but finished tonight, with Iraqi Defense Ministry officials no longer claiming they can still win, but rather promising to launch a "counter-offensive" to try to retake the city in the future.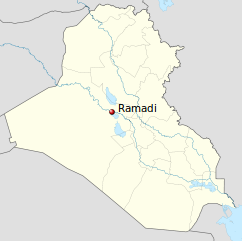 Fighting was reported at the gates of the city, but most of the activity around the outskirts of Ramadi was civilians fleeing into the countryside, hoping to avoid a blood siege.
The latest reports out of the city are that ISIS forces are no more than 500 meters from the center of the city, and are almost certain to wrap up their push in the next day or two.
US military leaders have shrugged off the imminent loss of the city and its half million residents as "not central to the future of Iraq," insisting there was no serious impact to the overall war.