Russia has expanded its ongoing wargames this week with an alert for the nation's Northern Fleet, adding to NATO complaints about exercises that are going on at the exact same time as NATO's own wargames.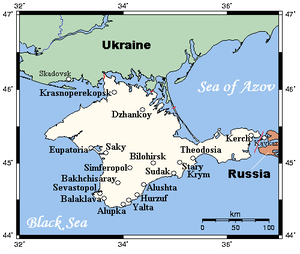 US general and NATO military leader Gen. Philip Breedlove complained that Russia's control over the Crimean Peninsula could allow it to exert control across the Black Sea.
Which is true, but hardly novel, since Russia has had effective control over the peninsula since the early 19th century, and effect control over the northern half of the Black Sea throughout that period.
Russian officials reiterated today that they have no intention of giving up the Crimean Peninsula, which was annexed into the Russian Federation again last year. NATO has been demanding Russia give up the peninsula, whose population is overwhelmingly Russia, to Ukrainian control.