With months of campaigning seeing him falling behind the left-center Zionist Union list, which has accused him of trying to sabotage a two-state solution, Israeli Prime Minister Benjamin Netanyahu is now vowing that, if reelected, he will sabotage a two-state solution.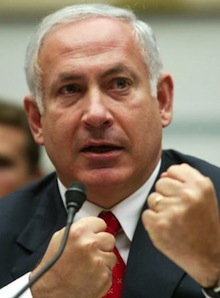 Netanyahu confirmed that there would be no Palestinian statehood if he gets reelected, saying any independent Palestine would amount to giving territory away to "radical Islamists." He then accused the Zionist Union of plotting to do the bidding of the international community with respect to the occupied territories.
Ironically, the comments come just a week after Netanyahu's office denied that he was opposed to a two-state solution, which itself was the result of a statement published by his own Likud Party which was very similar to today's comments, and which Likud distributed among synagogues nationwide in the election push.
The latest comments come from an interview with NRG, a news website owned by casino magnate Sheldon Adelson, who has largely bankrolled Netanyahu's reelection campaign.
Adelson has long insisted that there is no such thing as Palestinians, and that the Arabs made the whole thing up to attack Israel. He similarly bankrolled the failed 2012 US campaign of Newt Gingrich, who made similar claims.