"I am not focused in the politics of this, I am not focused on the theater," President Obama said of Israeli Prime Minister Benjamin Netanyahu's speech, adding "as far as I can tell, there was nothing new."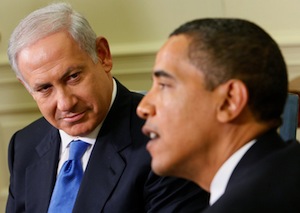 That seems accurate, as indeed Netanyahu's speech to the US Congress today was in many ways identical to the speech he gave to AIPAC the day prior, and similar to speeches made in Israel on an almost daily basis for months.
Iran noticed this as well, shrugging off the comments as "boring and repetitive." Netanyahu's attempts to liken Iran to Nazi Germany indeed is getting quite repetitive, even if Congressional hawks continue to eat it up.
Netanyahu presented the ongoing negotiations with Iran as an existential threat to Israel, insisting that Iran will always be America's enemy, and that US officials need to just accept that and be hostile toward them.
He presented an "alternative" plan to the P5+1 interim deal, which aims to trade limits to Iran's civilian nuclear program for an easing of sanctions. Netanyahu, by contrast, wants more sanctions, and also wants Iran to have no civilian program at all, with no trade at all taking place.