Several hundred Nigerian civilians were killed today as Chadian military forces invaded the northeast Nigerian town of Dikwa, taking it from Boko Haram fighters.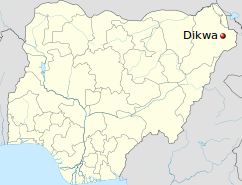 The death toll is still being figured out, but is estimated in excess of 300, with Chad claiming Boko Haram carried out a huge massacre while their troops were in the process of taking the town.
Oddly, there are no reports of Boko Haram fighting with Chadian forces at all, and the only military casualties were a single slain Chad soldier and 34 others wounded in a suicide car bombing near the border.
Chad is part of a coalition with Nigeria, Niger, and Cameroon fighting against Boko Haram in the region along their mutual borders. They all seem to struggle when fighting Boko Haram directly, and so far their military operations have just left a massive civilian toll in their wake, with very little of consequence changing hands.