The Ukraine ceasefire is continuing to mostly hold, but Ukrainian officials are claiming an increase in in the death toll in the loss of Debaltseve, with another 14 soldiers killed and 173 others wounded.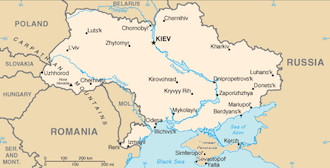 Debaltseve was held by the military but surrounded by the rebels at the time the ceasefire started, with firing back and forth leading the military to cede the town to the rebels yesterday.
With that town settled, new shelling has been reported by both sides, with shelling near the rebel capital of Donetsk and also the key port city of Mariupol, which is still under government control.
The EU is sending armored cars to monitor the ceasefire, though the monitoring seems mostly irrelevant. Each side is seeing some violations on the frontier, and whether the truce holds will largely depend on their willingness to look the other way on those violations in favor of the general calm, at least compared to last week.