According to the Niger military, a Nigerian warplane that was carrying out anti-ISIS operations across the border region near Lake Chad attacked a mosque in the border village of Abadam, and a group of mourners who were holding a funeral outside.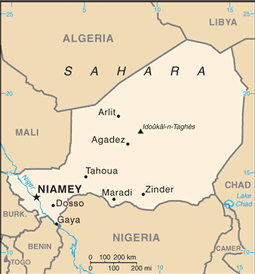 Niger officials say they believe the Nigerian military mistook the large gathering of mourners for Boko Haram and attacked them, killing 37 civilians and wounding dozens of others.
Nigeria has denied the attack, saying they have no information that any of their warplanes carried out an airstrike. There are few other theoretically possible suspects, however.
The region where the attack took place in along the common borders of Niger, Nigeria, Cameroon, and Chad, yet neither Niger nor Cameroon really has an air force capable of carrying out the sort of airstrikes reported in the village, and they came concurrent with Nigeria claiming massive Boko Haram death tolls in a nearby air campaign.
It seems probable, then, that Niger is correct in blaming Nigeria for the killings, and that the "300 Boko Haram killed" that Nigeria are bragging about today includes at least these civilians, and likely many more, as their warplanes apparently aren't too choosy on targets.