Preparing to head to Belarus for ceasefire talks, Russian President Vladimir Putin had to take a call from President Obama, who threatened to impose "greater costs" on him over his "aggression" in the Ukraine.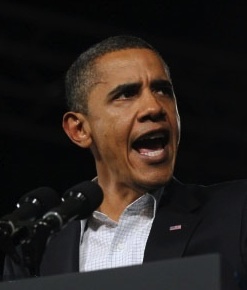 Ukraine's civil war is going increasingly poorly for the US-allied government, and the Obama administration seeks to blame Russia for the gains of the rebels, who are predominantly ethnic Russians.
At the same time, the claims of "aggression" ring incredibly hollow, as Putin is the one working with France and Germany in Minsk to try to get a new Ukraine ceasefire in place, while the Obama Administration has refused to attend and is talking about escalating the conflict with arms shipments to the Ukrainian military.
The US and Britain have both repeatedly gone on the record as wanting the Ukrainian civil war to end, but only on their terms, which is an unconditional surrender of the rebels. Since the rebels have gained ground and Russia, France, and Germany are trying to negotiate a settlement, the US and Britain are trying to forestall the ceasefire, hoping they can shift the war in Ukraine's favor enough that total surrender becomes possible.
Until that happens, expect them to paradoxically oppose Russian peace efforts and blame Russia for the war.