After the on-again, off-again fighting over the Donetsk Airport finally went south for the Ukrainian government, President Petro Poroshenko was inconsolable, talking up a full-scale military offensive across the rebel frontier.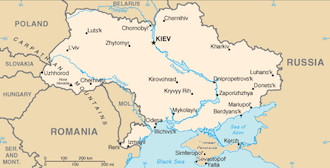 After a week of fighting that's gone exceedingly poorly, the rebels are now the ones on the offensive, and Poroshenko is once again insisting that the Minsk ceasefire deal is the only game in town, and that it is the rebels who really violated it.
Poroshenko insists he is going to return "calm" to the situation, and is echoing calls from Russian officials to get back to the bargaining table, while blaming Russia for the ceasefire faltering in the first place.
Obama, as usual, is backing whatever Poroshenko says at any given time, and while the administration was averse to the ceasefire a few days ago now they're insisting it needs to be saved from "Russian aggression," and that all options are on the table to harm Russia because, once again, the Ukrainian civil war isn't going the way they wanted.