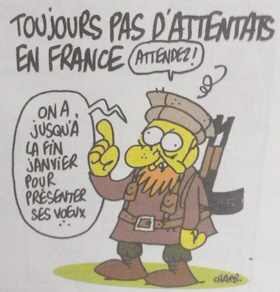 In an eerie coincidence, the French cartoonist known as Charb – real name, Stephane Charbonnier – seemed to predict the attack in which he was murdered.
His last cartoon depicted a figure representing a jihadist in which the headline says: "Still no attack in France" – with the jihadist figure saying "Wait! We still have until the end of January to send our New Year wishes." This was Charb's last cartoon: it was published a few days before the attack that took his life and 11 others in an attack on the offices of Charlie Hebdo, a French magazine where Charb served as editor.
Charlie Hebdo has a long history of attacking Muslims, as well as other religions. The magazine's offices were firebombed in 2011. It had just moved to new offices when the attack took place.
According to one witness, the attackers shouted that they were from al-Qaeda in Yemen.
Meanwhile, the War Party has already started making hay, with New York Times columnist Roger Cohen taking to Twitter to proclaim:
"I am shaking with rage at the attack on Charlie Hebdo. It's an attack on the free world. The entire free world should respond, ruthlessly."
Asked who or what should be the target, Cohen responded:
"The perpetrators. Their enablers. Their ideologues. Their fellow travelers. Follow the money. Ruthless equals remorseless."
Let the craziness begin….