Following an emergency meeting of his cabinet, Israeli Prime Minister Benjamin Netanyahu expressed confidence that the International Criminal Court (ICC) would reject the Palestinian application for membership out of hand "since the Palestinian Authority is not a state."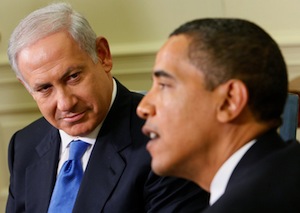 PA President Mahmoud Abbas acceded to the Rome Statute on December 31, effective 90 days from his signature. There's been no indication out of the ICC that they intend to reject the PA application.
The Israeli argument that the PA is "not a state" is also a questionable supposition, as the PA is broadly recognized as a "provisional government," and the UN General Assembly has granted Palestine the status of a non-member observer state.
The US has also made it clear they strongly oppose Palestinian membership in the ICC, though whether the ICC is taking US and Israeli objections seriously is unclear since, after all, both nations have signed the Rome Statute but never ratified it, and both refuse to allow ICC jurisdiction over them.
Abbas pushed ICC membership after failing to get a UN Security Council approval for an end to the Israeli occupation by 2017. The US vetoed this resolution, at the behest of Israel.