Police clashed with protesters in the northeastern state of Assam today, as hundreds of tribal settlers who survived an ethnically motivated attack by a rival tribe took to the streets.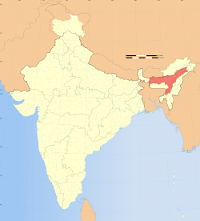 The Bodo rebels attacked members of the Adivasi tribe in the town of Shamukjuli, killing 63. The Bodo, who make up around 10% of the Assam population, want the region declared their exclusive homeland.
The Adivasi tribes moved into the same region during the British Raj, to work on tea plantations. They were originally from Central India, but have been in Assam for generations.
India has announced it will deploy an additional 5,000 paramilitary troops into the area soon, in an attempt to prevent the violence from spreading. Yet ethnic violence in Assam has been a constant for years, and such deployments rarely do more than create a brief lull.