Though officials continue to deny plans to engage in a full-scale ground war in Iraq, the Pentagon has confirmed today that Secretary of Defense Chuck Hagel has ordered "several hundred" more ground troops to the nation.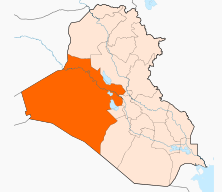 The Pentagon says around 1,700 troops are currently in Iraq, and that number was already poised to go up to around 3,000 within the next few weeks, mostly stationed in Baghdad and Arbil.
Increasingly, however, the US is also moving troops into the front-line in Anbar Province, with 350 troops stationed at Ayn al-Assad airbase already and plans to put forces into additional bases.
Nominally, the troops in Anbar are supposed to be advising and coordinating Iraqi ground troops in their offensives, though the bases are constantly coming under attack by ISIS, who control roughly 80% of the province outright.
The Pentagon has yet to address reports that US troops from Ayn al-Assad engaged in direct combat with ISIS. Iraqi officials reported the fighting, saying it amounted to self-defense because ISIS fighters were about 10 km from the base.