Secretary of State John Kerry today sought to assure people that the US would in no way interfere with the upcoming Israeli elections, and would work with whoever the Israeli public chooses to elect.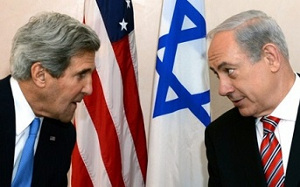 At the same time, Kerry insisted that the Obama Administration intends to get back to pushing for a resumption of the peace process with the Palestinians as soon as the March elections finish.
That's clearly going to be a lot easier with some potential Israeli governments than others, and the clear acrimony between the Obama Administration and the collapsed Netanyahu coalition is going to loom large in the vote.
Netanyahu's Likud Party has made much of standing up to the US, and standing against the peace process, and they are courting a new far-right coalition that will make even the show of peace talks virtually impossible. At the same time, other factions which are selling themselves as pro-peace are likely to emphasize the negative impact Netanyahu has had on US relations, so the US will be a factor in the vote even if they don't want to be.