Former Communications Minister Moshe Kahlon looks to be a major player in the March Israeli elections, as he laid out his political positions today in anticipations of establishing a new political party.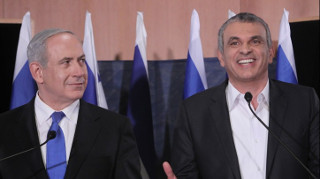 Kahlon split off from Likud back in 2013, and says he considers his position "center, a little right." In contrast to the increasingly rightward shift of Likud, Kahlon is positioning himself as a pro-peace candidate who "won't miss an opportunity for real peace" with the Palestinians.
Even though Kahlon hasn't officially unveiled his new party, it is already polling as a relatively major faction for the March vote, and could wind up a kingmaker in the battle between the right and the center-left.
Kahlon insisted that the "real Likud knew how to make peace," and said that his policies represent the "core Likud," in contrast to the current Likud leadership.