On a visit to the Ukrainian capital of Kiev, US Gen. Philip Breedlove, the Supreme Allied Commander for NATO, warned that Russia has the capability of invading Ukraine at some point in the future if they choose to do so.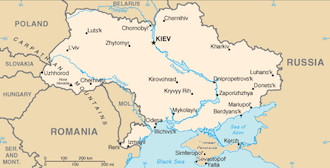 While Ukraine often claims Russia has already invaded, Gen. Breedlove would only say that the Russian troops deployed in westernmost Russia meant they could theoretically invade.
Breedlove also claimed the Crimean Peninsula, the long-time home of the Russian Navy, which was annexed into the Russian Federation earlier this year, could also be used by Russia to impose control over much of the Black Sea.
He went on to accuse Russia of "training and equipping" eastern Ukrainian rebels in Donetsk and Luhansk, saying the US remains concerned about Russia's role in the civil war.