Villagers from Beit Iksa, on the outskirts of occupied East Jerusalem, reportedly have received notice from the Israeli military that they intend to seize 3,176 acres of land from the villages "for military purposes."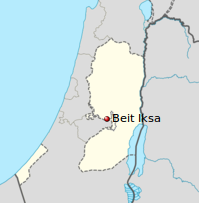 The details of the seizures are scant at the moment, and the military is refusing all comment, but the villagers reportedly received a preliminary warning about the plan back in 2012, and today's notice reiterated the plans, with orders to vacate by the end of 2017.
Beit Iksa has seen better days, and the village already lost some territory in 2009 to a high-speed rail project. Their close proximity to Israel's Route 1 is seen as objectionable by many Israeli hawks.
Most of the village's land lies on the Israeli side of the West Bank barrier, and is unusable by the residents at any rate. It is unclear if the new confiscation is going to include area on the Palestinian side of the barrier.