The Obama Administration is continuing to try to downplay the reports of a secret letter sent by President Obama to Grand Ayatollah Ali Khamenei on the topic of ISIS.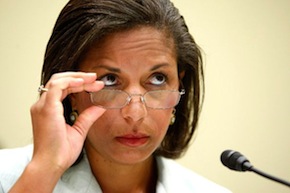 Today it was Susan Rice's turn to downplay the situation, saying the US was "in no way engaged in any coordination – military coordination – with Iran on countering ISIS."
Congressional hawks have been condemning Obama for the secret letter, saying it is "outrageous" that Obama would even communicate with Iranian officials, and that it threatened to harm ties with Sunni Arab nations.
Administration officials have not denied that the letter was sent, but have refused to discuss its content, and said their policy toward Iran has not changed. Since this letter is unprecedented, whatever the content their policy clearly did change.