Ukrainian President Petro Poroshenko has threatened to withdraw his government from a truce with eastern secessionist rebels today, a day after the easterners held an election for leaders of their breakaway republic.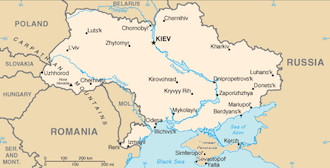 Poroshenko insisted that the election was a "flagrant violation" of the agreement, and claimed to have already held talks with the defense ministry about the prospect of restarting the civil war.
The war wasn't going particularly well for the Ukrainian government at the time the truce was reached, as the rebels had launched a counter-offensive chasing them out of key portions of the territory in the Donetsk and Luhansk Oblasts.
The rebel vote is expected to install Aleksandr Zakharchenko as the new president of the People's Republic of Donetsk. Zakharchenko is a leader of the rebel movement already, and an advocate of outright secession from Ukraine, saying he believes the Donetsk region could become a wealthy energy exporter along the lines of the United Arab Emirates.