Another pre-dawn raid by ISIS against the border crossing near Kobani (Ayn al-Arab in Arabic) has been repelled by Kurdish fighters, and more ISIS reinforcements are reportedly en route to try to shift the tide of battle.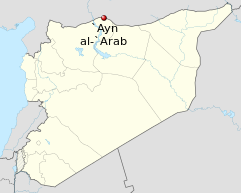 The reinforcements aren't just rank-and-file ISIS fighters this time, as reports say that Chechen commander Abu Omar al-Shishani, one of the top military commanders in the ISIS force, is being sent there to take charge of the situation.
ISIS likely figured they had this battle well in hand, having taking hundreds of villages around Kobani before stalling at the border town itself in the face of intense Kurdish opposition. The offensive has now lasted well over a month, with the battle for the town itself over two weeks.
US airstrikes have been focused on Kobani, trying to keep ISIS from getting its fighters in any faster, and while the US claims massive death tolls from the strikes, ISIS continues to pump more fighters in, and has changed its tactics to make them less easily targeted from the air.