Israeli officials say that a car ramming incident at a Jerusalem train station today was a terrorist attack. The driver, a 21-year-old Palestinian, slammed his car into pedestrians at the train stop, killing an infant and wounding eight other Israelis.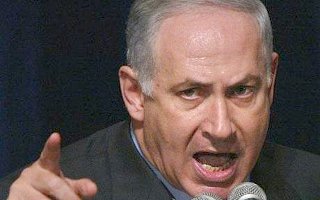 Israeli police say the driver, Abdel-Rahman Shaloudi, had previously served time in jail for "terror activity," and he reportedly died of his wounds after being shot today by police. The driver was from Silwan, a neighborhood where tensions have risen over recent settler activity.
Israeli Prime Minister Benjamin Netanyahu blamed Palestinian President Mahmoud Abbas for the incident, saying Abbas' recent criticism of Israeli policy was incitement that led directly to terror attacks.
Israeli officials were demanding violent crackdowns on the Silwan neighborhood, with Economy Minister Naftali Bennett insisting that "not even Satan could create sufficient vengeance" for the incident. Predictably, there were several crackdowns in Occupied East Jerusalem later in the day, with Jerusalem's mayor saying the situation is "unbearable" and that the Arab neighborhoods need to be brought under police control.