US warplanes dropped weapons and ammunition to the Kurdish fighting forces in the Syrian border town of Kobani (Ayn al-Arab in Arabic), with Secretary of State John Kerry saying it would be "irresponsible" not to arm the Kurds in the town, even though many of them are PKK, listed by the State Department as a terrorist organization.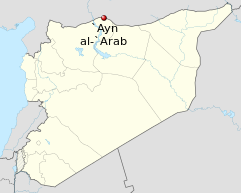 The YPG faction issued a statement tanking the US for the weapons, saying it will have a "positive impact on military operations against ISIS." The comment came with a warning, however.
YPG spokesman Redur Xelil also said that the arms and ammunition the US sent, along with the scores of airstrikes against them, "certainly will not be enough" to decide the battle.
The arms shipments were carried out through Iraqi and Syrian airspace, but may still fuel some anger from the Turkish government, which just yesterday insisted it opposed arming the YPG, PKK, and other such groups, with fears that the Kurdish factions, at war with Turkey for decades, will eventually use such arms against them as well.