Pentagon spokesman Rear Admiral John Kirby offered new details today on the US airstrikes against ISIS around the Syrian Kurdish border town on Kobani (Ayn al-Arab in Arabic), claiming the US believes it has killed "hundreds" of ISIS fighters in the region.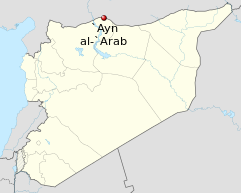 The Pentagon has escalated the number of strikes in and around Kobani repeatedly over the past week, despite officials maintaining that the town itself is "not a priority."
Kirby not only claimed the hundreds killed overall in US strikes in the area, but 39 killed in the past two days, though other officials appeared to concede that the town is still expected to fall as ISIS keeps pouring more and more reinforcements into the area.
Kobani is valuable to ISIS both as another border crossing into neighboring Turkey, and as the last holding of the Kurds west of ISIS territory. The rest of Syrian Kurdish territory is in the far northeast of Syria.