Villagers are facing stray mortar fire and bullets along both sides of the Line of Control between Indian and Pakistani territory around Jammu, with at least 18 villagers now reported killed in the past four days.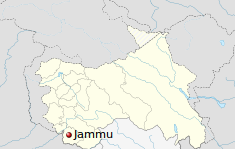 Both governments are blaming the other for "unprovoked firing" sparknig the fights, and tens of thousands of civilians on both sides have been displaced in what is one of the worst flare-ups along the always tense border in years.
Kashmir is heavily contested, and India and Pakistan have fought three wars in their relatively brief history over the territory. Internally, several factions are pushing for Kashmiri separatism, with some seeking accession into Pakistan and others hoping to turn Kashmir into an independent nation.
The Line of Control amounts to a de facto border between Pakistani and Indian held portions of Kashmir, and both sides claim scores of violations of the line annually, and while gunbattles are fairly common, it is rare for one to last as long as the current row.