Though the comments didn't include an explicit mention of military action, Turkish Prime Minister Ahmet Davutoglu says that his nation will "do whatever we can" to prevent ISIS from seizing the Kurdish border town of Ayn al-Arab.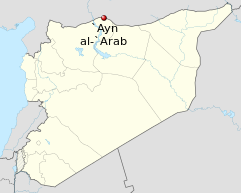 ISIS has been moving closer to Ayn al-Arab throughout the week, and large numbers of Kurdish fighters don't seem to be able to stop their advance this time, and they've reached the outskirts of town according to most indications.
Coming just a day after Turkey's parliament authorized military operations inside Syria and Iraq, Davutoglu's comments have been seen by many as a sign that an intervention at Ayn al-Arab might be imminent.
Yet later in his speech, Davutoglu appeared to downplay that possibility, saying that if they intervene directly to save the Kurds in that town, they'd also have to intervene on behalf of the Turkmens in Yayladag, as well as the Arabs across the border from Reyhanli, who have also been faced incursions from Islamist factions.