President Obama's newly appointed envoy to the anti-ISIS coalition, retired Gen. John Allen, added his voice to the chorus of officials warning that the war is going to take a long, long time.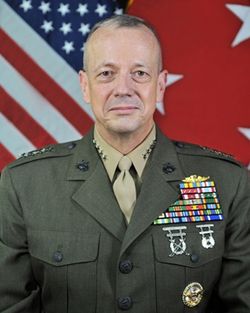 Gen. Allen told reporters today that the war is still in "early stages" and that the campaign is going to require time and patience. He also offered some of the first details on the plan for the campaign.
Allen insisted that trying to attack the city of Mosul, the largest ISIS-held city, was not imminent, and that the plans so far were for the move against Mosul to "kick off within a year."
Allen also tried to keep pushing President Obama's pledge of no ground troops going to Iraq, saying the plan remains military advisers and increased aid to Iraqi military forces.