The Obama Administration's previous promises not to launch drone strikes unless there is a "near certainty" that the strike won't kill any civilians, much publicized in the lead up to the new ISIS war, doesn't apply to US strikes in Iraq or Syria, according to Centcom.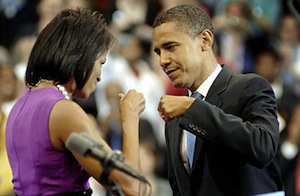 The "near certainty" standard was meant to apply "only when we take direct action outside areas of active hostilities," according to Centcom spokeswoman Caitlin Hayden, who says that the war with ISIS doesn't count.
The US has often played fast and loose with that standard at any rate, routinely killing civilians in Pakistan and Yemen in areas most assured "outside areas of active hostilities." Nevertheless, one shudders to think how much worse the civilian toll in Iraq and Syria will be, with officials openly saying that nominal care they're supposed to take doesn't apply.
US strikes, particularly in Syria, have killed a number of civilians already, with two confirmed civilian deaths yesterday when US warplanes attacked grain silos in ISIS-held territory. Though the Pentagon is officially denying any deaths, today's Centcom comments clearly lay the groundwork for an admission of guilt, and a position of formal ambivalence about the civilians the military is killing.
The more fast-and-loose definition of care may mirror the US occupation of Afghanistan, where airstrikes have routinely killed large numbers of civilians, and incidents of scores and even hundreds of civilians slain in botched strikes are not unheard of.
It also makes the weekend admonition by the Red Cross for the US to take care that it abides by international bans against targeting civilians and medical personnel all the more important, as their checkered track record of doing that in past wars seems to be the template they're applying to the new conflict.