Weeks of fighting has put ISIS forces less than 5 km from the outskirts of the key Kurdish border town of Ayn al-Arab, and has them trading fire with Kurdish militias desperately trying to slow their progress.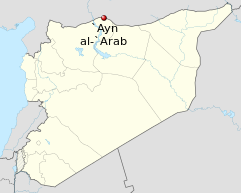 Turkey has had to deal with an increasingly chaotic border crossing, with civilians trying to flee into Turkey and Kurdish fighters trying to cross into Syria to join the battle. Now, Turkey has sent 15 tanks to the border.
The Turkish deployment doesn't necessarily portend an imminent intervention in the conflict, but might just be a show of force after two of those artillery shells strayed crossed the border into Syria.
Turkish Prime Minister Ahmet Davutoglu says that his government seeks to request extended mandates from parliament for military action in Iraq and Syria, though he would not elaborate on what that might entail.