After meeting with his Ukrainian counterpart, President Obama has rejected the call for arms shipments to Ukraine, but instead has agreed to another $53 million aid, including $7 million in humanitarian aid and $46 million in non-lethal military aid.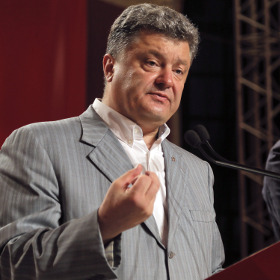 President Poroshenko had complained about the US policy of providing only non-lethal aid during his speech to the US Congress, insisting that "one cannot win a war with blankets."
Even though Ukraine is in a state of ceasefire with its eastern rebels, Poroshenko presented the conflict as critical to the future of NATO, and said it was vital to "defeat" Russia.
Poroshenko, and indeed other officials in the new Ukrainian government, have wildly varied their rhetoric in recent days, talking up peace and concessions when addressing eastern Ukraine, promising a great war to wipe them out when talking to hawkish ultranationalists in the west, and presenting a nigh-apocalyptic vision of a war on Russia when addressing potential donors.