Ukrainian Prime Minister Arseniy Yatsenyuk today declared that in spite of the ceasefire with rebels in the east, the country remains "in a state of war" with neighboring Russia.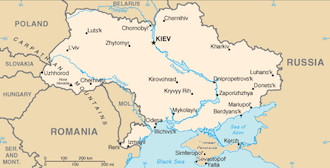 Yatsenyuk pushed NATO to immediately admit Ukraine as a member and join the war on Russia, claiming the nation is a "threat to the global order and to the security of the whole of Europe."
Russia brokered the current ceasefire in eastern Ukraine, and today sent another convoy of 215 trucks full of humanitarian aid into the rebel-held city of Luhansk. The Luhansk rebels promised not to use any of the food aid for themselves, but to distribute it to civilians.
The question of how long the ceasefire will hold remains an open one, though President Petro Poroshenko has offered increased autonomy as part of the negotiated settlement. Reuters reported explosions were heard in the rebel city of Donetsk, but what, if anything, actually happened remains unclear.