The Friday ceasefire in eastern Ukraine continues to hold, albeit barely, with both sides continuing to report intermittent artillery fire by the other, and at least one civilian reported slain in Mariupol.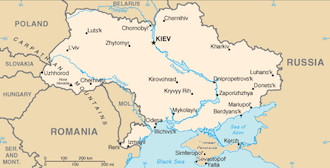 The Ukrainian military blamed "terrorist Russians" for the Mariupol sharing, with one soldier quoted by Reuters terming them "people with no honor" who are "lying all the time."
The rebels also reported several of their fighters were killed in government shelling in and around Donetsk, mostly centering on rebel forces surrounding the government-held airport.
Amnesty International issued a statement condemning both sides for war crimes, saying that "all sides in this conflict have shown disregard for civilian lives and are blatantly violating their international obligations." An estimated 2,600 people have been killed in the war, and over one million displaced. The Ukrainian government claims a much larger death toll, if one takes into account its wild stories of massive numbers of slain Russian soldiers.