Ukraine's government continues to escalate its claims of a Russian invasion, now insisting that there are several thousand Russian troops, backed by tanks and artillery, and mysteriously totally unphotographed in eastern Ukraine.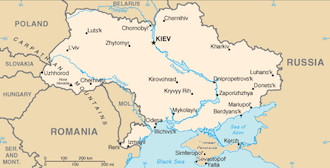 The eastern civil war continues along the nation's southeast coastline, where rebels are advancing on the key Donetsk Province port of Mariupol. Hundreds of rebels were photographed making there way toward Mariupol, but again, none of the "thousands" of Russians were seen.
The Ukrainian military is now picking up calls for a dramatic increase in NATO shipment of weapons and ammunition, saying they have not been providing any weapons to the troops invading the breakaway east.
Ukraine also wants to become a member of NATO now, because then when they come up with their dubious claims of Russian "invasion" it would immediately start World War 3. NATO, needless to say, has not generally admitted members with existing territorial disputes, and would not consider Ukraine specifically because doing so would quickly escalate into a massive war.
Incredibly, while the non-credible invasion claims continue to circulate, Presidents Putin and Poroshenko met and worked out a deal on more shipments of humanitarian aid into Ukraine's east. Russia will provide future aid by rail. The last humanitarian aid shipments Russia made, last Friday by truck, were also dubbed an "invasion" by Ukrainian officials.