While most of the focus in eastern Ukraine has turned to the status of a Russian humanitarian convoy parked at the border, Ukraine's military is continuing to escalate its attacks on the city of Luhansk, the eastern-most provincial capital, and one of the last few rebel strongholds.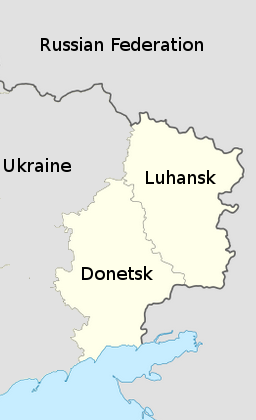 The rebels continue to talk up counter-offensives, but so far they've been on the defensive, while civilians trapped in their last strongholds are coming under more intense targeting.
Shells pound Luhansk regularly, and locals warn that both food and water are increasingly scarce. Electricity is non-existent in much of the city, and the humanitarian crisis gets worse day by day.
It is in the context of these growing humanitarian crises in Luhansk and Donetsk that the Ukrainian government grudgingly agreed to allow the Red Cross to bring aid into the country's east. Yet the largest convoy of aid, coming out of Russia, remains parked at the border, with Ukraine refusing to allow it into the country, and officials saying it will likely be weeks before that changes, if the aid is allowed in at all.
280 trucks sounds like a lot, but many of the trucks are virtually empty, as the convoy was meant to have excess space in case some of them broke down en route, allowing the goods to be loaded onto what trucks still remained.
The US and other nations, which have been cheering the Ukrainian offensive, have said they are opposed to the Russian aid shipment, and continue to warn Russia against "interfering" with the war.