Ukrainian army officials today insisted there was no deal in place for the Russian aid convoy which departed Moscow, and that they will block it from entering Ukrainian territory.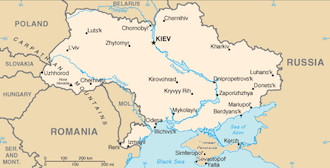 Ukrainian officials insisted any aid deliveries had to be done through the Red Cross, and that the aid would have to be transferred to Red Cross vehicles before entering Ukraine, which despite all the complaining is exactly what Russia already said they were planning to do.
The Russian convoy is expected to arrive at the border in two days, and will offload its massive cargo of humanitarian aid to the Red Cross. The convoy will then be accompanied by OSCE representatives during the brief trip from the border to Luhansk.
The lag between the convoy leaving Moscow and reaching the border will hopefully give the Red Cross more time to sort things out with the Ukrainian military, though at the same time it means Ukraine will likely continue to treat the shipment as some sort of military incursion, despite Russia promising not to accompany it with any armed escorts.