With US warplanes supporting them, the Kurdish Peshmerga has pushed back against ISIS in the area just southwest of Irbil, taking the villages of Gwer and Makhmour back, along the border between Kurdistan and the Nineveh Province.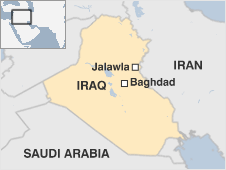 The US airstrikes seem primarily focused in this area, trying to blunt the ISIS offensive as it nears the Kurdish capital at Irbil. Yet this isn't the only site of combat between ISIS and the Peshmerga.
Indeed, the two villages ISIS lost were dramatically overwhelmed by the ISIS gain in the Diyala Province, where they routed the Peshmerga and seized the strategically important town of Jalawla.
Jalawla had been the site of an ISIS suicide bombing earlier in the day, which killed 10 Peshmerga fighters and wounded 80 others. By the end of the day, the Peshmerga was in retreat, fleeing northward, closer to their home territory.
The town is an important stop on the road between Baghdad and Iran, and just 20 miles from the Iranian border is the farthest east ISIS has yet advanced. It also gives them strategic control over yet another northern highway, limiting the flow of forces between Kurdistan and the remaining territory of the Iraqi central government.
Jalawla is one of the southernmost Kurdish towns in Iraq, and was a site of major bombings against the Patriotic Union of Kurdistan in June. Its loss will be a morale blow to the Peshmerga, as well as a likely eye-opener for Iran, as ISIS draws ever nearer their border.
The US air war at present seems focused on the Kurdish-ISIS battles, though ISIS seems to be hitting targets all over their frontier, trying to force the Peshmerga into spreading themselves thin, and is having continued success in taking meaningful territory, despite the loss of Gwer and Makhmour earlier today.