At least 15 Ukrainian soldiers were killed today when they attempted to fight their way past rebels who had reportedly "surrounded" their position south of Luhansk.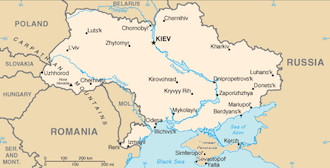 The military reported that with the help of other troops who were not encircled, they managed to create an "escape corridor," but 15 troops were killed and 79 others wounded in the fight.
The Ukrainian military has been pushing an offensive against eastern secessionist rebels for weeks, and continue to say they are "tightening the noose" around the rebels, though in this case it seems like the rebels were the ones who surrounded them.
Recent successes by the Ukrainian military appear to have stalled now, as the troops near the main eastern city of Donetsk, though the military continues to shell the city, causing civilian casualties.