The on-again, off-again attempts by ISIS to seize the Aleppo Province Kurdish city of Ayn al-Arab continued again today, with fighters attacking the town, sparking a battle that left at least 49 fighters dead.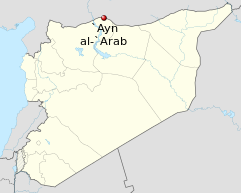 According to reports, 14 Kurdish YPG fighters and 35 ISIS fighters were slain in today's fight, with dozens of others wounded on both sides. Ayn al-Arab is considered a valuable prize because it lies partially within Turkey and partially within Syria.
That spanning of borders has been a big help for the YPG, as they have been able to recruit a number of Turkish Kurds to join the defense of territory that could eventually be part of an independent Kurdistan.
The Syrian Kurds have a solid foothold in the northeast of the country, but Ayn al-Arab and the rest of their Aleppo territory are separated from that by ISIS holdings in Raqqa. ISIS has been keen to expand into territory on both sides of the Raqqa Province, as well as in Iraq, though so far the Kurds have proven to be one of the few factions that can effectively fight them off.