While the rest of the world stands aghast at the soaring civilian toll of Israel's ongoing invasion of the Gaza Strip, Israel's Ambassador to the United States Ron Dermer thinks the hundreds of dead civilians, many children, were proof of Israel's remarkable mercy.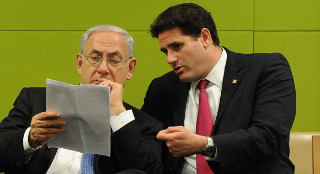 "The truth is that the Israeli Defense Forces should be given the Nobel Peace Prize," Dermer insisted, "a Nobel Peace Prize for fighting with unimaginable restraint." This speech was delivered less than 24 hours after Israel bombed a Gaza hospital.
"Israeli soldiers are dying so that innocent Palestinians can live," Dermer claimed, going on to contrast Israel's attacks on densely populated residential neighborhoods in Gaza to deadliest British carpet bombings of German cities during World War 2, which is apparently the standard by which he believes all wars are to be waged.
Lest you think this was an unusual outburst for Dermer, his speech also included a whole section calling Iran "the Great Evil" and another accusing human rights groups of "aiding Hamas" for complaining about all those dead children.
Dermer was appointed Israeli Ambassador to the US last year, replacing outgoing Michael Oren. His appointment was controversial because he had openly campaigned for Mitt Romney in 2012 and urged Prime Minister Benjamin Netanyahu to distance himself from Obama in the lead-up to that election.
He was also controversial because of his history as an outspoken opponent of the two-state solution, which he dubbed "childish," at a time when Israel was desperately trying to convince the US they were serious about peace. In the midst of an endlessly escalating war, his bellicosity is less out of place, though still remarkably undiplomatic.