Israeli troops are moving harshly to crack down on Palestinian dissent in the occupied West Bank, particularly in the area around East Jerusalem. At least one Palestinian has been confirmed killed when troops opened fire on stone-throwers in a small village.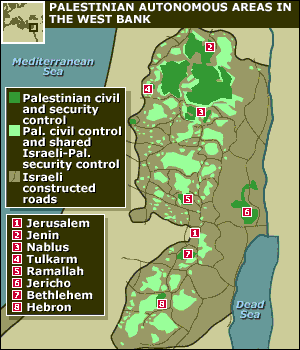 The attack appears to have been a setup, as the stone-throwers were said to be throwing stones at a passing convoy, when a separate Israeli military unit hiding nearby emerged and opened fire. Israel dubbed this an "ambush."
The slain man was shot twice in the back, and troops on the scene initially tried to prevent an ambulance from reaching him. They eventually allowed him to be taken to a hospital, though he died shortly thereafter.
Dozens of others involved in overnight rallies against Israeli attacks on Gaza were captured by the Israeli military, including some other stone-throwers.
Details about what is going on in the West Bank have been tough to come by since Israel began its most recent round of attacks on Gaza, as the military censor has been strictly limiting the Israeli media's coverage of the occupied territories.