Visiting Egypt's military junta, Secretary of State John Kerry reportedly expressed "strong support" for freedom of expression and peaceful assembly, while assuring the junta, which has been massacring people who participate in peaceful protests, that they've got even stronger support still.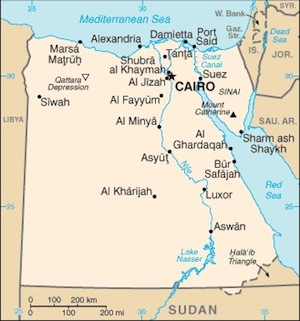 Kerry assured President Sisi of billions of dollars in continued US military aid, and in particular promised that ordered helicopter gunships would be sent to Egypt's junta "very, very soon."
Sisi, for his part, promised to continue to move against "terrorism," which pleased Kerry. Since the junta has designated most public protesters as terrorists, however, it suggests the policy of crackdowns will continue.
The former defense minister, Sisi orchestrated a military coup last summer against the elected government, and has since been elected president, albeit in a vote in which all significant opposition parties were banned from participating, and indeed, during which many opposition figures were imprisoned pending execution for "terrorism" related charges.